A while back I gave you 5 reasons to love coconut. In case you missed that post you can read it 
here
.
As the weather warms up ( I am in NYC this week and it's hot and humid!) here is a quick recipe you can use to get more coconut and tame hormone imbalance. Plus it's a great way to start the day.
Berry Balancing Smoothie for fighting hormone imbalance



1/2 cup organic frozen berries ( I use blackberries and raspberries).
1/4 teaspoon Maca powder
1 cup unsweetened coconut milk (I like to use 1/2 cup coconut milk, half cup coconut cream to make it extra rich and yummy. I like to use the a brand that is organic uses BPA free cans)
1 scoop chocolate flavored protein powder. I like to use a brand that does not have whey or Soy  – but does not taste grainy and blends really smooth.
Handful of ice cubes
Throw into a strong blender like a Vitamix and enjoy!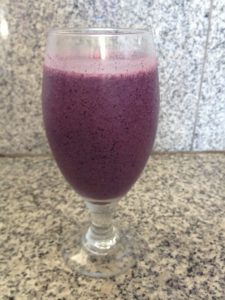 Berries

 are a low glycemic fruit, that won't spike your blood sugar in the AM but they have a ton of antioxidants. Keeping you insulin levels low also helps with pcos and belly fat.
Maca contains adaptogen which is a great remedy for reproductive hormone imbalance (estrogen in women AND testosterone in men) and boosting energy levels. I like to use one that is gelatinized with clients – because there is less starch, making it easier to digest and absorb.

Coconut 

balances your endocrine system in addition to all the great benefits (healing hormone imbalance, making your skin glow).  It also is also a great way to stop curb sugar cravings naturally.

Protein

 balances blood sugar