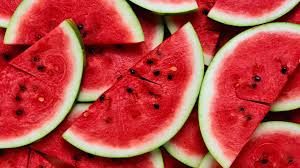 Hi there! You are probably starting your Fourth of July long weekend right about now. So here's a quick tip before you go and unplug for a little bit.  
 

 





Watermelon is a great summer fruit for a variety of reasons. It's sweet, hydrating, and full of lycopene, Vitamin C, flavonoids, and antioxidants. It's synonymous with pool parties, BBQs, picnics and other summer fun. But did you know that watermelon might also spice up your love life and be a menopause natural treatment? 






Watermelon contains high levels of the amino acid L-citrulline. Our bodies change L-citrulline into L-arginine (another amino acid), and then into nitric oxide. This relaxes blood vessels and increases blood flow (much like that little blue pill….). 

In addition to the obvious, this also helps with immunity, boosts athletic performance, reduces muscle soreness and reduces blood pressure. And women lessen their production of nitric oxide after menopause. Watermelon actually works as a menopause natural treatment.

Bonus Tip:
Most of this stuff is in the white rind. So when everyone else tosses their white and green pieces aside – you'll be the smart one who grabs it up and throws it in the juicer! You'll get all the energy enhancing properties with no added sugar. 

Now go have a fun and restful Fourth of July weekend filled with fireworks of all kinds. 
These statements have not been evaluated by the Food and Drug administration. This product is not intended to diagnose, treat, cure or prevent any disease.
Disclaimer
The content on this website strictly for educational purposes. The ideas, opinions, and suggestions contained on this website are not meant to replace medical advice. Readers of this website should not rely on any information provided here as a substitute for medical advice, diagnosis, treatment or consultation with a medical professional. Nourish Nutrition, Inc. does not encourage, nor is it liable for failure to seek medical advice from an appropriate licensed medical professional.