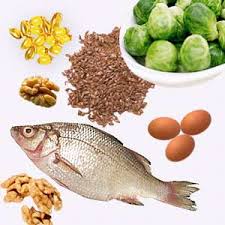 Omega 3 fatty acids fight inflammation in the body. Inflammation is behind many of our "hormone" challenges – such as low moods, cramping, depression, and fatigue.
Omega-3 fatty acids also promote healthy and flexible cell membranes, ensuring hormones such as estrogen, progesterone, testosterone, and prolactin to reach and attach to the right places. This way it reduces the chances of hormonal imbalance. It also helps with issues such as PCOS and PMS.
Good sources of Omega-3 fatty acids are eggs and fatty wild caught fish such as salmon and black cod. There are vegetarian sources as well such as walnuts, flax seeds, and hemp seeds.
Animals sources of Omega 3 are most recommended because your body can get EPA (eicosapentaenoic acid) directly. Vegetarian sources contain ALA (alpha-linolenic acid) which your body has to convert into EPA. It's less efficient. Also the rate of conversion goes down as you get older. While many natural foods containing chia and nuts tout that they are high in Omega-3s, the reality is they are just not the same.
If you are vegetarian or can't eat wild caught fish 2-3 times a week – try a fish oil supplement. Make sure you are reading labels. Many fish oils that are cheaper are lower in EPA (and contain higher amounts of DHA (docosahexaenoic acid)). EPA is the stuff you care about- when it comes to balancing hormones and fighting inflammation.
These statements have not been evaluated by the Food and Drug administration. This product is not intended to diagnose, treat, cure or prevent any disease.
Disclaimer
The content on this website strictly for educational purposes. The ideas, opinions, and suggestions contained on this website are not meant to replace medical advice. Readers of this website should not rely on any information provided here as a substitute for medical advice, diagnosis, treatment or consultation with a medical professional. Nourish Nutrition, Inc. does not encourage, nor is it liable for failure to seek medical advice from an appropriate licensed medical professional.