Jenn L.

, CEO, Entrepreneur
Before working with Sunita, I was struggling with energy lags and disruptive hot flashes. Sunita really knows her stuff and quickly pinpointed the major issue causing both problems. She worked with me and my schedule to balance my blood sugar and hormones quickly in a natural way (and delicious!) way. I'm about to tell my doc we can kick the HRT now, and I feel so much better about my overall health and my ability to manage my energy to meet the demands of my full life!
Before working with Sunita I was struggling with some excess weight and low energy. I was not sure what I should or shouldn't eat. I was interested in improving my health and hormones for the long term so I could focus on other areas of my life. After working with her my clothes fit better, I feel more confident, and I know how to eat for my body.
If I find myself falling off track I know why. I have more energy and don't crave sugar or caffeine anymore. I have been sleeping better, and have lost much of the excess weight that was holding me back. After working with Sunita I find myself making great changes in all areas of my life.
​Sunita has a knack for seeing what you can't and quickly identifying what you need. She was able to get me the results I wanted in a way that was manageable and sustainable for real life.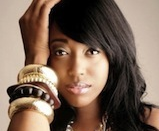 Tyomi M.

, Model, TV Personality, Entrepreneur






​Before working with Sunita, I was struggling with sugar cravings, excess weight, energy fluctuations, oily skin, and other symptoms of PCOS. After my PCOS diagnosis last year I was scared. I went online and was totally freaked out. I am so glad I went to an expert rather than wasting time stabbing around in the dark.
​I knew I wanted to heal my PCOs naturally. I am interested in starting a family in a few years, and taking birth control as a band-aid solution is not appealing to me. I also knew that this was a key year for my life and my business, and that getting my health on back on track was a priority.
I am so glad I decided to invest in myself and work with Sunita. ​My body has responded immediately to everything we are doing. After just a few sessions, I have more energy, I feel less bloated, my skin and hair look amazing, and I know that my body is back on track. I have already gotten my cycle back after working with Sunita for a short time. Sunita created a customized diet and supplement protocol that worked right away.
I am a model and my skin and hair needs to be on point at a moment's notice. I am also a busy entrepreneur, and I don't have time for energy ups and downs. Sunita was able to craft a plan that fits into my busy lifestyle, but still gets me results. ​
Sunita is truly an expert in PCOS and women's health. She has an intuitive sense for what you need and does not waste time. She is so thorough in explaining what we are doing, and how it is helping me, that I never feel lost or in the dark. After our work together, I feel like I will have the tools I need to manage PCOS on my own. ​
Before consulting with Sunita I was suffering from low energy in the afternoon, uneven energy at work, and I didn't really know what to eat. After my doctor said my sugars might be high, I decided to speak with Sunita. In just one hour session, she was able to turn things around. She quickly pointed out some tangible areas for improvement in what and when I was eating, and explained how this was contributing to my issues. She broke down everything in a way that made it easy to understand. Now I am sleeping better, have loads more energy, a clearer mind, and feel like I have a doable and sustainable action plan for how to eat for my body."